From SF artist Hilary Pecis - Opening reception for the exhibition of my work, titled Half Truths and Outright Lies opens on Saturday, February 12th (7-11pm) featuring new digital collages at Guerrero Gallery, 2700 19th st. in San Francisco.
Also on view in the main space is an exhibition titled (((?.))) by Ryan Wallace.
Opening Reception: Saturday, February 12th, 7-11pm
Show Dates: February 12 - March 5, 2011
Guerrero Gallery | www.guerrerogallery.com
2700 19th Street @ Bryant St, San Francicso
Guerrero Gallery is pleased to present (((Ω.))), an exhibition of new work by Ryan Wallace. Pronounced "Omega Point", the show's title acts as a representation in text of a term coined by French philosopher Pierre Teilhard de Chardin. Posthumously put forth in his book The Phenomenon of Man, Chardin's theoretical "Omega Point" describes evolution as a process that leads to increasing complexity, culminating in the unification of consciousness.
As this title serves as symbol for a spoken term, Wallace's works act as tangible visual representations of abstract interpretations and ideas. It is within this arena of translation that Wallace engages his practice. The artists' meditations on themes such as Chardin's manifest themselves in his works on canvas, panel and paper. As (((Ω.))) implies the language of coding, each work seems to speak an idiosyncratic language from its own unique universe. While this language invites interpretation beyond that of Painting, it refuses us any singular or literal one.
Making use of the gallery's open space and natural lighting Wallace addresses these phenomenon as subject, medium and metaphor. In his heavily layered works he uses opalescent pigments, transparent sheets of Mylar, and even slashes, pulls, folds and curls the canvas. The physicality of these works along with their simultaneous appearance of the micro and macro, push the dialogue of how a painting acts as a picture, an object and as a plane that holds information. In Wallace's vision information does not remain stagnant. As the viewer walks through the exhibition each surface shifts as the show appears to shimmer and fold. This continuous visual evolution changes with physical vantage point, reinforcing the artists' concerns of time, light and the human condition.
Born in New York City, Ryan Wallace lives and works in Brooklyn and Amagansett, New York. He is a graduate of the Rhode Island School of Design and a recent recipient of the Elizabeth Foundation for the Arts' Robert Blackburn Printmaking Workshop SIP Fellowship. His multimedia works have been exhibited at The Brookyn Academy of Music, The Rhode Island School of Design, The Yerba Buena Center for the Arts, The Torrance Art Museum, The Katzen Arts Center at American University and in the Schwartz Collection at Harvard. Recent solo exhibitions have been held at Morgan Lehman Gallery and the Wild Project in New York. (((Ω.))) marks Wallace's first solo effort with Guerrero Gallery and on the Pacific Coast. A book published with Oakland based Land and Sea will be made available on the occasion of the exhibition.


"Half Truths and Outright Lies"
by Hilary Pecis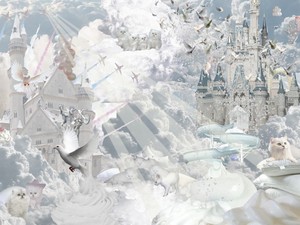 Guerrero Gallery is pleased to present "Half Truths and Outright Lies", an exhibition of new works by Hilary Pecis. This body of work consists of landscapes constructed from Internet images. Interested in the dishonesty, self-regulation, and speed in which information can be delivered over the Internet, most of the images utilized in the works are from numerous untrained photographers via Google image searches. Functioning as mythological landscapes, her works call into question the ownership of imagery and the intended use and significance of those images. This exhibition is both a dialog with the history of collage and a gradual extension of Pecis' older work.
A lover of epic landscapes, Pecis starts the construction of her landscapes with mountains, jungles, icebergs, and deserts. By way of the nature of Internet searches, other images happened upon are utilized, shifting the initial direction of the landscape. Constructed with little research or question, making for an amateur idea of how places should appear, her landscapes mix varieties of flora from different regions and mountains from across the world. Images pulled from sensational news stories have also found their way into the work, giving the image a somewhat longer lifespan.
The title of the show is based on an Intelligence Squared debate, "Good Riddance to Mainstream Media", which discusses the relevance and fate of traditional journalism and the blog. David Carr, a writer for the NY Times said "They become an echo chamber of half-truths, sometimes outright lies, without any real data points coming in. And so you end up with a sort of mass of people talking to each other, no one has read anything. No one knows anything. They're talking about something that someone else read that read that read that read. And we end up in a meta-world."
Hilary Pecis' work is a depiction of landscapes influenced by Internet, television and other media sources. With an interest and focus on the interchangeability of images and the capability to perceive and ignore them, Pecis draws attention to how we are conditioned by the media's overwhelming supply of information. Her work is influenced by artists Jess (Collins), Marco Brambilla, David LaChapelle and Rob Pruitt. Hilary is a native Californian, having received both her MFA and BFA at California College of the Arts. She has exhibited her work at Catherine Clark in SF, Roberts and Tilton in Los Angeles, Morgan Lehman in New York, Western Exhibitions in Chicago, and will be having solo shows at both Guerrero Gallery in SF in February and Galleria Glance in Turin in March.